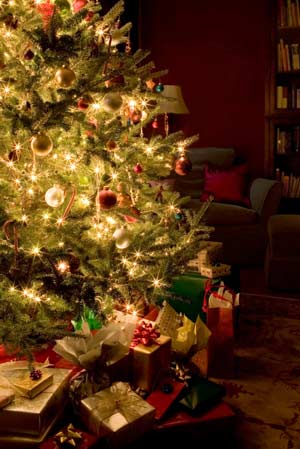 I remember one Christmas when I was a little girl wanting a specific doll. I had seen it in a catalog and knew my life would not be complete without it. Even at the age of 7, I wanted to be a mother! I circled it with a big magic marker and laid it open to the page on my parents' bed. My mom was always a sucker for buying me and my sisters dolls, so I knew once I made it known the doll would be under the tree. I never faltered. I never worried. A few weeks before Christmas, the presents were wrapped and I got to look at the tree and dream for several days until that doll was mine. I remember gently snooping, so as not to disturb the arrangement of the presents, to look for the doll shaped box. Sure enough, it was under there. It was as good as mine...but not mine yet. I was so excited that morning to open that gift and finally hold the doll that I had requested.
For me, looking back, this is a reflection of what our relationship with the Father can be, or should be. I'm His child and I'm filled with desires. Some of those desires are selfish and some of those desires are dreams that He has begun and is anxious to make happen. Once these dreams are made known to Him or He makes them known to me, it's equivalent to the doll-shaped box being under the tree. Those dreams will happen, but there is a timing, a "Christmas Day" that must be waited for before they can be opened. Once God speaks a promise, the fulfillment exists. I never once wavered in my trust in my parents...would they give me that special gift or would they withold it from me? I just slept peacefully in my feety pajamas and joyfully expected it to come. How much more is my heart to rest in the assurance of my Father's goodness and joyfully expect that He is true to His word? As great as my earthly parents are, He is so much greater! And yet, I waver.
Today I found myself asking the Holy Spirit to give me the gift of faith. Faith brings pleasure to the heart of God (Hebrews 11:6). In fact, Scripture says it is impossible to please God without faith. But faith comes at a high price. In order to have the gift of faith, you have to exercise faith which means situations that require faith. These situations are never easy. These situations can bring much turmoil and travail. Why does faith please Him? I don't know the full answer but it seems that He must understand how difficult it is to exercise. It means having self-control over my thoughts and my emotions. It means not allowing my circumstances to dictate His character. It means being unmoved in my belief that if God has spoken, His word will not return to Him empty without fulfillment. It means rest while the storms rage around me. It means being assured and confident that though I don't see it now, I will. I want to trust God far more than I trusted my parents for Christmas presents. The promises He has spoken to me are already under the tree and today, I am one day closer to fulfillment.
Thank You, Jesus, that one more day is down and behind me! I'm one day closer to opening up that fulfillment, that great gift You've spoken. May You find me joyfully expectant and not daily disappointed in the waiting.